Hear the Maryland Crunch!
Hear the Maryland Crunch!
As schools and communities continue to recover from the lingering social and economic impacts of the pandemic, school meals will be more important than ever in ensuring that students have the nutrition they need to learn and thrive.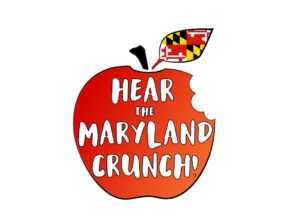 That's why we will be celebrating Hear the Maryland Crunch on Thursday, March 9, 2023.
Held on a single day during National School Breakfast Week, Hear the Maryland Crunch is a virtual campaign that highlights the importance of the School Breakfast Program in ensuring that all children get a healthy start to their day.
Additionally, this year we are taking the opportunity to highlight the movement across Maryland, and the whole nation, to make Healthy School Meals for All a reality. Because of federal waivers, students across the country have had access to meals at no cost throughout the pandemic. Although these waivers have ended, we hope you will join us in advocating for Maryland to provide healthy school meals at no cost permanently so that all Maryland students are able to access the nutrition they need while they are in school – ending stigma, supporting school nutrition programs, and encouraging success!
How to Celebrate Hear the Maryland Crunch!
Celebrating Hear the Maryland Crunch is simple! Just follow the steps below to join students, teachers, legislators, and community members in this state-wide synchronized apple crunch event:
Take a picture or video of yourself biting into an apple. (No apples? Use one of our virtual apple backgrounds instead!)
Post that picture or video on social media on Thursday, March 10. Be sure to include #HearTheCrunch and tag Maryland Hunger Solutions!
Include a message of gratitude to the incredible school nutrition staff in your district and across the state, and share why providing school meals to ALL students at no cost is important to you and your community.
Invite all our friends, classmates, teachers, elected officials, and colleagues to join you and post their own picture or video as well!
Please be sure to check out our resources created to help you celebrate Hear the Crunch virtually this year. We have created several Zoom backgrounds, including interactive backgrounds with prompts and virtual apples to "crunch" into.
Learn More About the Importance of School Breakfast!
Students perform better in school, are less likely to be overweight, and are less likely to be absent from or late to school. Learn more about the research that underscores the importance of Breakfast for Learning and Breakfast for Health.
Our annual School Breakfast Report: Creating Healthier Students and Better Learners With the School Breakfast Program, measures progress in ensuring that all of the nearly 400,000 low-income students in the state have access to a nutritious school breakfast so they can start the day ready to learn. The report includes details about how well the schools in your community are doing in ensuring that all low-income students have access to the School Breakfast Program.
Additionally, "The Maryland Hunger Gap" lesson plan to was developed in partnership with Johns Hopkins Center for a Livable Future to teach students how to define hunger and food insecurity, explore interventions designed to improve food security, and take a stand on the merits of expanding universal school breakfast programs.
The Maryland Hunger Gap provides important context and background for participation in Hear the Maryland Crunch! — and can be adapted to a virtual classroom setting!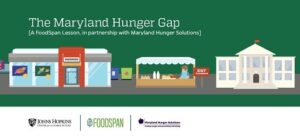 For more information about Hear the Maryland Crunch, contact Julia Gross at jgross@mdhungersolutions.org.